In the 2011 census, the population of Owen Sound saw a 0.5 per cent decrease from 2006. The next census will be taken in 2016 and one local business owner thinks there might be a change in those trends.
'The kids who have gone away are now starting to move back to start their families,' says Joanna Bottrell, owner of recently opened Heartwood Home. 'They don't have a lot of money, but need to furnish their homes.'
The eclectic downtown store, located in the former Jolley's Alterative Wheels, has affordable and stylish furniture, plants, auction finds, and items from local artisan, such as paintings and quilts.
Heartwood Home also features a hair dresser's chair where Jess Stevens offers haircuts, as well as The Daily Grind, an espresso cafe which has retro bar counter seating.
'Above the store, the renovations continue with a concert venue, which is expected to open early summer.                                                      .                                …kjh    Modern urban stuff is easy for people to find in big cities like Toronto,' says Joanna. She says she thinks Owen Sound is ready for more new and interesting stores.
After months of renovations, Heartwood Home opened their doors August of this year. Above the store, the renovations continue with a concert venue, which is expected to open early summer.
It will feature 'mostly music but hopefully film, comedy, book launches, community fundraisers, theater and dance,' co-owner Greg Bottrell says. 'It will be available for rent for weddings or meetings as well.'
They bought an espresso machine to go upstairs for the venue, but had it downstairs for their own use. Joanna says customers began asking for the coffee, so they decided to integrate the café into their business plan. She says Hairstyling by Jess Stevens was another happy accident.
'We certainly didn't expect a hair dresser in the space,' says Joanna. 'Jess had just moved up here, and we had a mutual friend in Toronto. I thought there's so much space in my store, why doesn't she work from there?'
The other unique section of Heartwood Home is their 'easy care' plant selection.
Regular grocery store ferns are called Boston ferns, which some people find hard to keep alive. Heartwood Home offers unusual and easy to care for plants. Joanna says her goal is to make house plants easier for people to have. Among the house plants are philodendrons, as well as four different varieties of fern: Crown, Bird Nest, Stag Horn, and Crocodile fern.
There is a room at the back of the store, the walls of which were constructed using more than a dozen window frames, where Joanna pots the house plants and also refinishes the rescued rustic furniture she finds at auctions.
'The feedback has been so positive,' says Joanna. 'The community is so welcoming.'
Recently, they participated in the First Friday Extravaganza, a monthly downtown wide special evening started by Camille Cole of neighbouring Dr. Cobbler's Shoes & Swirls. At Heartwood Home, they had live music from Coco Love Alcorn, refreshments, door prizes and a 20 per cent discount on all house plants.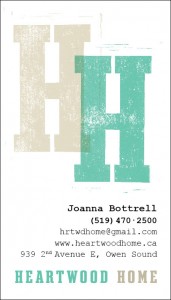 Joanna says they will participate again next month, on January 2 and welcomes everyone, including all of those recently returned Owen Sounders to come in to find unique and affordable home furnishings.
For more information, stop by their store at 939 2nd Avenue East or visit them on Facebook.