Exemplifying the age old career advice to "do what you like," Neil Morrison and his wife Holly took over the popular Owen Sound café, Frog Ponds, in 2009, because Neil liked coffee. Holly's first choice was to own a bookstore that served coffee, but when the original owners of the Frog Ponds wanted to sell, and with only 10 days to decide, they didn't hesitate.
Located on the corner of 8th Street and 2nd Avenue, Frog Ponds provides an upscale, trendy environment to meet friends and colleagues while enjoying exotic coffees and teas. Neil and Holly take pride in offering an ever-changing menu featuring an imaginative selection of fresh baked goods, soups, sandwiches, salads and more.
Whether taking orders, preparing food, clearing tables or working the cash register, Neil is a hands-on owner who works 60 to 70 hours per week in a business he loves.
What makes you and Holly entrepreneurs?
I really don't know. We never had any experience as entrepreneurs prior to taking over the Frog Ponds. Holly maintains a full-time job as Treasurer with the Township of Georgian Bluffs and sometimes works at Frog Ponds. I kind of fell into retail. After high school I worked retail at Fulfords a hardware store in Owen Sound and at the clothing store The Patch, Sauble Beach.
We think there is a real need for this type of meeting place in the downtown core and we are in a prime location with the staff and experience to make it work. That's a big jump from employee to owner?
It is, but I did graduate in Business at Georgian College and knew that I would work in business. I just didn't really think in terms of owning my own business, but I was certainly on the lookout for something new to do.
 So are you born or taught to be an entrepreneur?
In my case it's a bit of both. But with my retail experience I have developed a really strong sense about customer service and so the Frog Ponds is a good fit for me.
Any surprises with owning your own business?
It's a lot more hours than I anticipated and the day can be unpredictable. One minute it's quiet and the next minute, and for no particular reason, you're run off your feet with a rush of orders, and everyone wanting something different. That's what makes it exciting.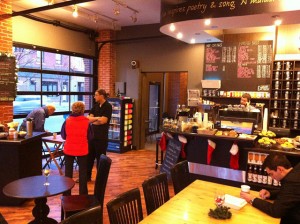 You purchased an existing business. Did you have to make many changes?
We made some internal changes to improve efficiency, but nothing our customers would quickly notice. One of our goals was to ensure that our customers continued to enjoy the same food and ambiance. We kept most of what was already on the menu, but over the last few years we've added to it.
Holly and I, our staff, and even our customers come up with menu ideas and we are always experimenting. Our regular customers are always delighted at finding something new to try. We probably have the most fun creating exotic tasting muffins, combining interesting flavours and ingredients.
Has business grown since you took over?
Yes, but it's taking a while. We have very loyal customers and new customers usually find us by word-of-mouth.
People like our menu, the fact that we use quality ingredients and produce premium products at a reasonable cost. We're also featuring live music which is proving to be very popular.
What's the toughest part about being an entrepreneur?
It never stops. Something always needs to get done and it's hard to prioritize at times because everything has to be done immediately! It's almost impossible to get any time to relax and vacations are difficult to arrange. You have too much work to do planning ahead, you worry about the business when you're away and then you've got to catch-up once you get back. I'm lucky that I have such great staff, they certainly help lighten the load, but holidays are still a challenge.
Would you recommend downtown Owen Sound as a location to start a new business?
Frog Ponds was already established at its present location and it didn't make economic sense to move when we purchased it. We have a fabulous location so anyone thinking about starting a business in Owen Sound should seriously consider locating downtown.
What's next for Frog Ponds?
We are starting to cater to small groups and would like to grow this part of the business. We have to make sure that the menu we offer is of the same standard and quality that our customers experience at the café.
We've also began to host groups seeking meeting space on a regular basis. We have access to an empty store connected to the Frog Ponds. We provide breakfast each week to the local chapter of Business Networking International and to a church group that meets on Sundays. We think there is a real need for this type of meeting place in the downtown core and we are in a prime location with the staff and experience to make it work.