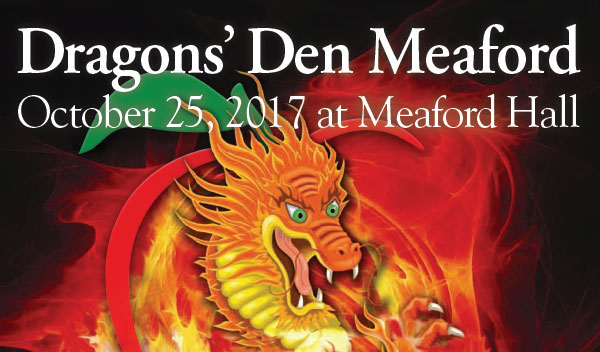 The 9th annual Dragon's Den Competition, organized by the Meaford Chamber of Commerce Is scheduled for Wednesday October 25th at the Meaford Hall. Tickets are $25.00 + HST and are available at the Meaford Hall Box Office 519.538.0463 or www.meafordhall.ca
This year's contestants offer a little bit of everything, with focuses on craft cider, a "hub" for artists, an artisanal dairy free cheesery, leisure cyclists and a meal kit delivery service. These businesses are in stiff competition with each other.
Windswept Cider – Mark Skinner
The Meaford Artisan Hub – Brad & Nadia Mear
Georgian Bay Fauxmagerie – Marie-Catherine Marsot
Ride On Bikes – Paul Bishop
MOJO Meal Kits – Rheanna Kish, Andrea Greyerbiehl & Bryn Honeywood Burk
Contestants are vying to win upwards of $20,000 in cash and in-kind prizes. The awards include an "Audience Choice" with $5.00 of every ticket sold awarded to the most popular contestant.
Last year's 3rd place contestant was Georgie Donais who has a dance and aerial arts studio called Mutable Arts located in Meaford. Her pitch was to supplement the space that she is in to make it a performance location requiring lights, chairs and other enhancements. Despite her feeling she did not allow enough preparation time going into the contest, she made her way to the finals and received the Audience Choice award.
To win, contestants must present to 5 local Dragons and be prepared to answer unscripted questions. For many, being grilled before a large audience and forced to defend their business idea is a challenging experience. But before they make it to the stage, there is considerable work and an evaluation process to reduce the number applying to a final five.
"I did a comprehensive business plan which I had the feeling I had already done. That was a huge amount of work, certainly worthwhile."
In addition to cash winners gain a lot of publicity from just being in the contest, important if you are starting a new business.
"Besides some cool cash, I did receive the Audience Choice Award. I got pretty sweet publicity – notice in the newspaper and being on-stage in front of all of the audience members was a help."
Dragons for the Contest are drawn from the local business community all of whom contribute time advising contestants in the preliminary phase and deciding the winners in the final event. This year, the list year includes:
Darryl Hindle – Quench Buggy
Cindy Gretton – E & H Property Management
Ross Kentner – Bayshore Broadcasting
Rick Lorenz – Meaford Pharmacy
Alex Hector – Bluewater Angel Investor Group
For more information about the event, contact the Meaford Chamber of Commerce.