Promotional products remain an effective means by which both small and large businesses can make their business name more memorable. Its an advertising method used by both both small and large businesses for decades. Think Coca-Cola, General Motors and the local hardware store.
In an interview with Bob Morrison, Owner of RAM Promotional, he explains some of the many ways in which promotional products can be used and offers some advice on how to use them most effectively.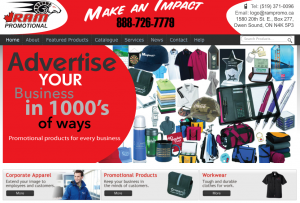 Virtually any item can be a promotional product, from a ball cap to bar tools. What makes it a promotional product is the addition of a corporate logo, phone number, name & address, slogan or any other branding or message. Adding the identifiers is termed "imprinting", which is essentially printing your message on the item. The term printing is used generically and includes, engraving, image transfer, screen-printing and more recently laser engraving.
Promotional products are all about making your business name more memorable. Each time a person, handles, wears it or sees it, they receive a reminder. So do the people around them. A t-shirt carrying your corporate logo or message could be seen by thousands of people over its lifespan.
Getting Started with Promotional Products
So how do you choose the right promotional product for your business or organization. It generally comes down to the following:
What's your budget?
How many people do you need to reach?
What's the ultimate purpose?
If you are planning to give away an item to a thousand people at a trade show it probably needs to be simple and inexpensive. Pens & pencils, key rings, fridge magnets are popular for this purpose.
If you are using the product as a reward or thank-you to an important customer the budget is usually higher and should be something appropriate to the value of the client. Cheap items that quickly break or are poorly made should be avoided.
Promotional products are commonly used as fundraising tools for non-profit groups and are either sold or offered as a thank-you to those participating. Events commonly call for wearables with tee shirts topping the list. T-shirts are inexpensive and turn the wearer into a "walking billboard", which is a great way to promote next year's event.
Promotional products can also be an incentive to staff and a way to advertise the business. The jacket, work wear or sports gear bearing an embroidered or printed logo is an easy way to spread the word. When used on work-wear, such as standard colour of shirt, it makes staff easy to identify in a busy retail location or restaurant.
What's Trending
Electronics are popular which such things as Bluetooth speakers, cell phone cases and holders and computer accessories topping the list. Kitchen items are also popular affected by the prevalence of cooking shows and on-line food-related blogs.
Clothing is still the most frequently asked for items with tee shirts and ball caps topping the list.
Suggestions
Space is limited so the message must be small. The objective is to be memorable or to be easy to recall by placing your name in a person's mind frequently. In the case of a pen each time they use it, your name is seen.
Keep in mind where it will be seen. If you want your message to be seen at 20 feet, it needs to be highly visible.
Keep logos and artwork simple if it is going to be small such as an embroidered name on a shirt. Complex designs don't resolve well and can add significantly to the cost.
Be unique if possible. If you are messaging on a tee shirt, it's an opportunity to make a big statement and the more original and appealing the more it will be worn and seen.
The better the quality of the item, the longer it will be retained and used, which increases its value as an advertising tool.
RAM Promotional Web Site: rampromotional.ca